Cultural building Ora
016
New construction of a library, a day nursery and a parent-child centre with an exhibition of archaeological finds
Competition: 2004
Client: Market town of Ora
Address: Ora National Road
Completion: May 2012
Construction time: 33 months
Artistic intervention: Martin Pohl

Photo: Rene Riller
Concept
The building is positioned on the south-western edge of the site so that the voluminous structure of the upper floors forms a facade facing the National Road. The position of the building ensures optimal lighting of the building and the surrounding buildings.
The positioning of the building on the southern and western edges of the site allows the widening of the "Alte Landstraße" and the creation of a redesigned square, which enriches access to the building and invites passers-by to linger.
An extensive garden on the east side of the building provides sufficient open space for the functions on the ground floor.
The natural terrain is incorporated into the building. This makes it possible to play with the height of the rooms and articulate them in a flexible way - with levels of different heights, views and vistas. Instead of a central staircase, there are air spaces and terraces that increase the excitement, experience and complexity of using the building.
Half-floors high, the rooms spiral upwards, echoing the natural leap in the terrain. Levels are flexibly articulated, providing views and vistas, and offering air spaces and terraces that add to the excitement, experience and complexity of using the house. Externally, the building presents itself with simple articulated facades - glossy and with cantilevered upper storeys above the entrances on the two fronts.
Floor plan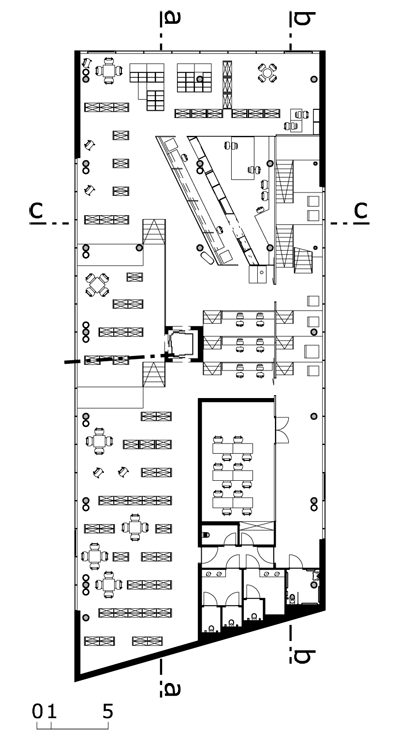 Section aa

Section bb

Section cc