Residential house
034
Client: Private
Address: Nalser Street Vilpiano
Completed: December 2009
Construction period: 24 months
Artistic intervention: Hartwig Thaler

Photo: Rene Riller
Concept
The Patiovilla presents itself as a closed, homogeneous structure in the midst of orchard fields, with a private driveway and entrance on the north-east side. The living areas, with floor-to-ceiling windows and a covered terrace, face south-west and are flooded with light. The utility rooms on the ground floor and the living rooms on the upper floor are accessed and lit from the central courtyard.
In the interplay between inside and outside, the external facades of vertical, rough-sawn larch and the green roof frame border the intimate living spaces, which offer a pleasant indoor climate and material/colour concept and welcome the visitor through the mirror installation (Hartwig Thaler) in the atrium.
Restrained yet distinctive, the building blends sensitively into the surrounding cultural landscape while remaining true to a sustainable energy concept.
Ground floor plan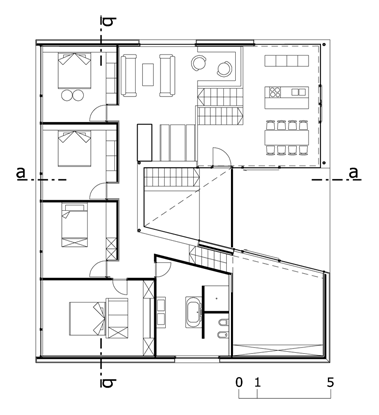 Upper floor plan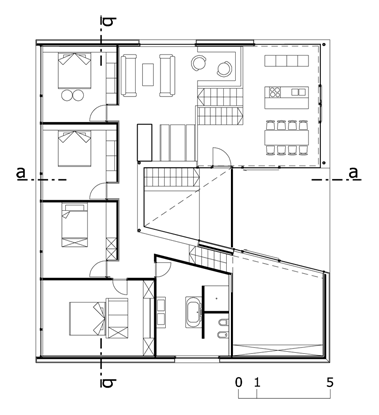 Section aa + bb