Residential house
067
Client: Private
Address: Rochusgasse Ora
Completion: May 2017
Construction time: 18 months

Photo: Renè Riller
Concept
The building is located in a small gap in the upper village of Ora. The surrounding area is characterised by narrow alleys with high enclosure walls on both sides and narrowly standing buildings.
The idea of the design is to thematise the existing enclosure walls, to extend them and to create an intimate courtyard which functions as an extension of the living space. The living space becomes part of the garden and vice versa. Covered areas become outdoor lounges. The upper floor is completely different. By creating an intimate patio, this part of the building appears closed and introverted from the outside and, with the exception of a studio window, cannot be seen from the surrounding buildings.
White exposed concrete was used for the upper floor, which is set on supports. The white lime sand found on the alluvial cone of the village was used as aggregate. The perimeter walls on the ground floor are based on the natural stone walls of porphyry typical of the area. These were plastered with coloured porphyry sand.
For legal reasons, the house had to be built together with the neighbouring building. The geometry of the floor plan was also defined by the applicable distance regulations. In addition, the maximum building volume was also predefined. For this reason, the house was placed on supports and was given an inner courtyard with a folded-down ceiling into the ground floor, in order to use as little volume as possible and still allow the largest possible floor plan area.
Ground floor plan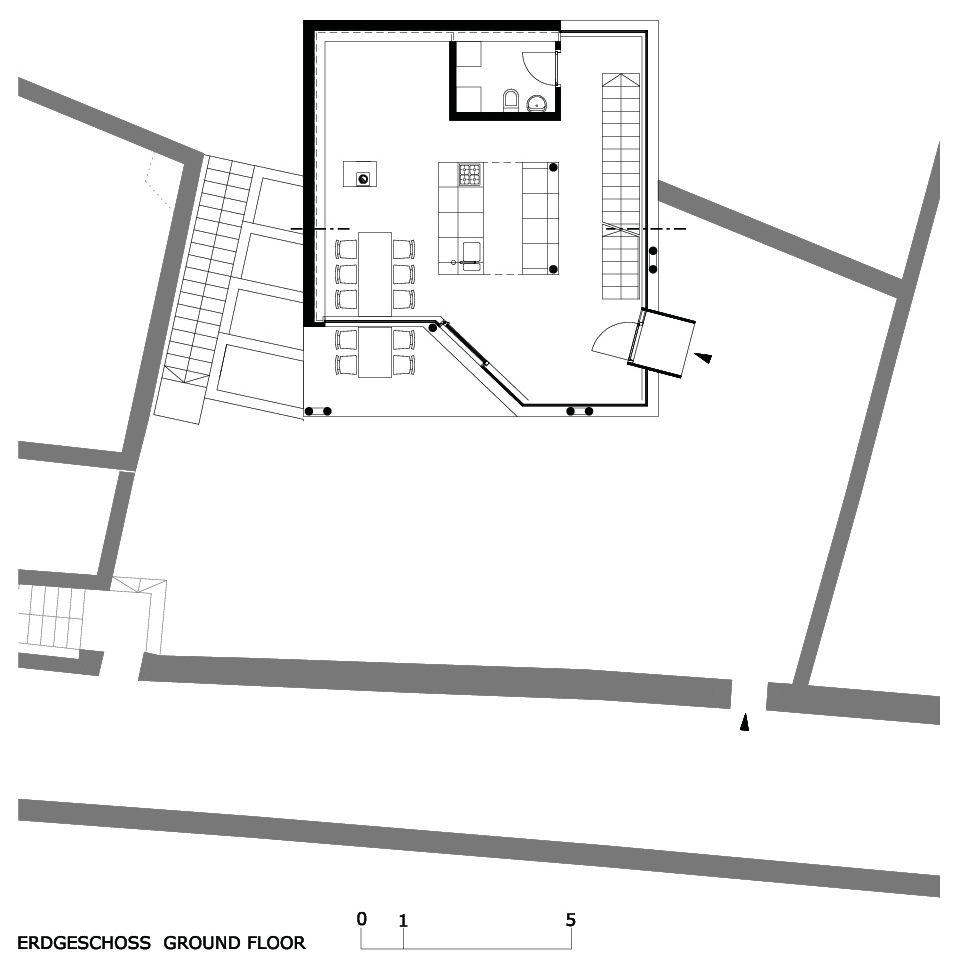 Section