Residential house
064
Client: Private
Address: Via Michael-Gamper Anterivo
Completion: December 2014
Construction time: 12 months

Photo: Renè Riller
Concept
The building is located directly on the access road to the small mountain village of Anterivo. In a prominent location directly at the entrance to the village, the residential building presents itself as a homogeneous, simply designed structure with a flat gable roof. The house is built on top of the flat roof of an existing garage, which is used as an accessory area and storage for a petrol station. The new residential building was positioned at the greatest possible distance from the adjacent neighbouring building in order to allow both structures an open and preferably unobstructed view and advantageous sunlight. The building is accessed via an existing entrance on the former roof of the garage. On the ground floor of the new residential building, we find the living room, which runs across the entire width of the building and offers an uninterrupted and spectacular view to the south of the mountains of the Lagorai group. On the upper floor we find the bedrooms and bathrooms, which are lit by wide panoramic windows.
The house is built in wood. The predominant materials on the exterior walls and in the roof area is untreated larch wood, which is used as simple planks. The interior is dominated by white wall surfaces and staged views of the landscape.
Through its scale, its formal restraint and the use of untreated larch wood, the building claims to integrate appropriately and sensitively into the surrounding rural landscape.
Ground floor plan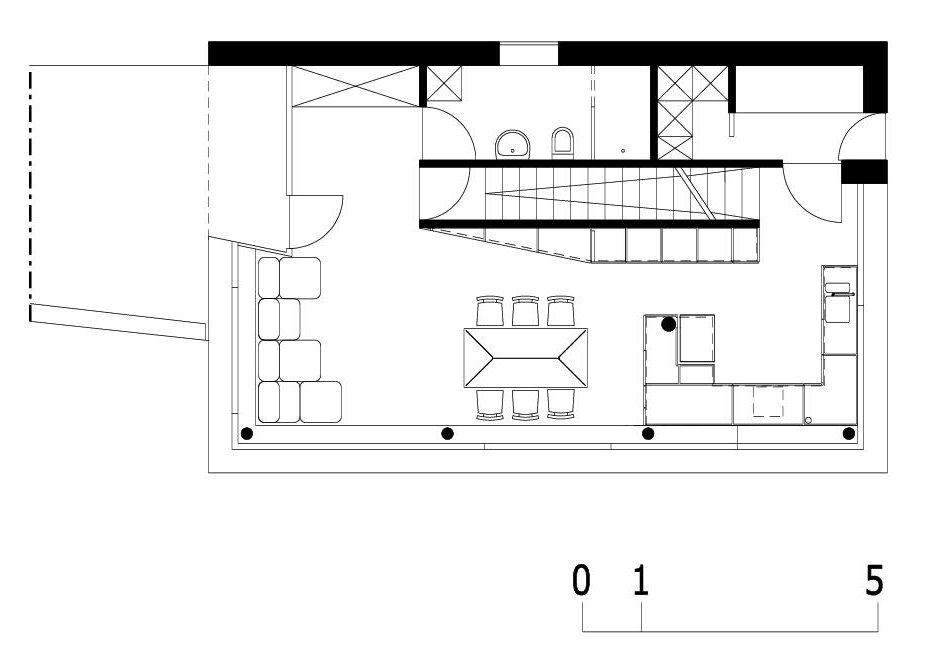 Floor plan upper floor